Cabinet doors are manufactured from a large assortment of products. They come in a vast array of colors and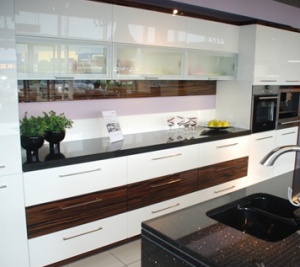 profiles with choices only limited to your style and budget.
The most popular cabinet door is made from natural wood. The choices are; but not limited to; Oak, Maple, Cherry, Walnut, Bamboo, Pine and many others. All of these can be stained and lacquered or left clear.
Wood cabinet doors come in an assortment of styles such as raised panel, shaker and flat. Now these choices will be multiplied 10 fold as there are choices for outside edge profiles, inside profiles around the frame itself, raised panel profiles, etc. Raised panel doors are all solid wood where as a shaker door has a plywood panel insert. There are options for solid wood flat panels to work with shaker doors.
Shaker doors consist of a solid wood frame with a plywood insert panel. Raised panel doors are a solid wood frame with a solid wood insert panel of different shapes and styles.
Flat panel doors can be manufactured from solid wood although not recommended, plywood and the other being MDF. Mdf doors are being used primarily due to its high strength, durability and dimensional stability. They can be finished with various products such as solid color lacquer, a vinyl type of product called thermofoil , polyester which can come in varying colors and wood grains, acrylic and even a wood veneer. Mdf can be machined into various shapes and styles prior to being completed with the appropriate finish.
Please have a look at some of the door examples.